I would highly recommend TXG! Chris was the absolute best salesman I've ever dealt with. I messaged him on a Sunday and he called me right back and we discussed me purchasing a Ford GT 350. He is very knowledgeable in the GT 350 and told me everything I needed to know about the car, I asked him questions about how clean the car was and how picky I am. I explain to him that I was going to purchase another GT from another dealership, but I turned it down when I went to look at the car, it wasn't as the dealership told me the car had scuffs, and even a small dent in it. So I was skeptical with Chris at first! Then he had me get on their website showed me the high resolution pictures of the car! So I told him that I would come and look at the car on Tuesday and if it was everything he said it was, I would purchase it. So I flew from Oklahoma City to their store. When I saw the car it was exactly how he described. The car was absolutely perfect! There are very few dealerships that I would recommend, but I would highly recommend this dealership and I would highly recommend Chris as the sales person.


100% Would recommend Txg!! Can't say enough good! They are a huge blessing from start to finish! They are friendly and make every step easy for you! The do it with integrity and utmost care! They did a full detail on my car and made it like new then helped me sell it for a great price both for me and the party buying! Their consolidation fees are more than fair for all they do!! Thank you so much to Matt, Chris and the whole team! You are the best!!!


TXG Automotive is a long way from Las Vegas Nevada so I was a little worried buying a car from so far away. Chris was absolutely incredible, he answered all my questions, he went above and beyond what I'm used to from salesmen. This is a class organization, they always told me the truth and they cared about me understanding all the facts. I have a whole new understanding about car salesmen now. I would highly recommend doing business with this company. I know I will be calling them when I'm ready to buy my next vehicle. Again thanks guys, you made me feel like part of the family and gave me a better deal than I thought I could get. I love my new Corvette. It's even better than i thought. Very, very grateful Sergio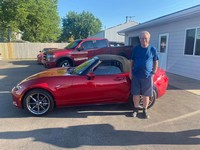 I saw the car on AutoTrader, and contacted the sales manager Corey. He was extremely courteous and helpful, got us pre-approved, and had all the paperwork ready when we got there. We drove from Denver to Sioux Falls to finish the deal. Corey is a very friendly, helpful, clean talking young man with a great personality. His small town dealership is first class. It was a real pleasure doing business with them. Thanks Corey!!

Kevin
I got a text from Corey saying I can get you a vehicle loan, at first I thought, no it can't be. I called him and next thing I know, I got a loan and now we have a 2014 Ford Escape. I highly recommend TXG Autos. Excellent service and really nice. Thank you Corey.

LeRoy Robinson
I recently bought a pickup and I am very pleased with the before, during and after sale treatment I received. I promise I will look at them again when I'm in the market for vehicle.